GOV. CHRIS SUNUNU says he has vetoed very few bills, but none so far has upset conservatives more than his rejection of one that would have curbed the power of governors during future states of emergency.
It's one of a few issues helping to fuel a longshot campaign by right-wing activists to have the Republican State Committee censure Sununu for it.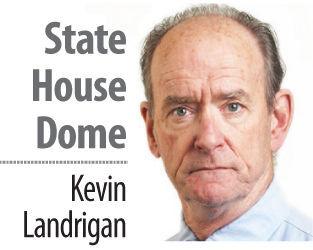 The bill (HB 275) would have prevented the governor using an executive order to extend a state of emergency more than three times.
During the pandemic, Sununu extended his state of emergency order more than 15 times.
Sununu said he had compromised on a check of the executive powers in signing the state budget deal in 2021, but this bill went too far.
"It is irresponsible to further bind a future Governor's ability to address and respond in a crisis, especially when the Legislature already has the power to suspend a state of emergency at any time," Sununu wrote in his veto message.
GOP conservatives were angered by this, especially because Sununu had written to Majority Leader Jason Osborne, R-Auburn, in June 2021 that he was happy to work to "strengthen the process even further."
"Chris Sununu has proven he is a deceitful man drunk on power and his own ego," said Rep. Melissa Blasek, R-Merrimack, and executive director of RebuildNH, a group backing this challenge.
"This is the pattern of a scoundrel consistent with his lust for power that he exhibited during the state of emergency when he unconstitutionally controlled the lives of everyone in this state."
Joshua Whitehouse, a veteran Trump campaign operative, is leading the effort to collect 239 signatures on a petition to get a state GOP vote on censuring the governor. The number needed is half of the state committee ranks.
The petition also cites Sununu's vetoes of legislation to ban a buffer zone around abortion clinics and two congressional redistricting maps.
Whitehouse said the petition also seeks to take action against some GOP leaders he said are violating bylaws by endorsing primary candidates.
"A lot of people are upset with the governor right now," Whitehouse said. "I am very optimistic we can get to that number. We are all putting a lot of effort towards this."
Osborne gave the effort no comfort.
"I am too busy working on the elections of House members to be bothered making a futile gesture toward someone who would just ignore it," Osborne said in an email.
This move has political overtones: Whitehouse is doing consulting work for Thad Riley, the Brentwood businessman waging a rival GOP primary for governor.
RNC Committeewoman Juliana Bergeron of Keene dismissed the effort as well.
"Chris Sununu is the only statewide Republican to win reelection in over 15 years — and he has done it twice, receiving more votes than any candidate for any office in New Hampshire history," Bergeron said.
"Republicans around the state overwhelmingly support him. As national committeewoman, I can say this alleged effort to censure him by a tiny group of individuals, who are not representative of the NHGOP, will not be successful."
Parks director moving on
Natural and Cultural Resources Commissioner Sarah Stewart of Manchester has some giant shoes to fill with the stunning news that Parks and Recreation Division Director Philip Bryce of Deering will not seek another four-year term.
Since taking over in 2011, Bryce has been instrumental in growing the system while keeping it solidly self-funded.
He's also someone in whom Sununu regularly has confided on many topics.
"Phil is such a solid guy and someone who always worked to bring people together," said Division of Libraries Director Michael York.
Bryce's current term expired April 1, but Stewart said he has agreed to remain on as long as it takes for her to find and nominate a successor.
Buffer change rebuffed
Some social conservatives thought Sununu would bend and let the repeal of the abortion clinic buffer zone become law without his signature.
They pointed to a federal judge striking down as unconstitutional a similar ban in Massachusetts.
But a few months back, Sununu said the change was not needed, and he repeated that view in his veto message.
Opponents of the bill (HB 1625) point out these clinics have not rigidly enforced a buffer zone and have allowed protesters to get closer than the 25-foot limit.
Morse ramps up ad
Senate President Chuck Morse's Senate campaign has finished its first 30-second ad and arranged a $1.2 million ad buy through the Sept. 13 primary.
"I've lived the American Dream because of our New Hampshire way of life. Now I'm fighting to bring the 603 Way to D.C. and putting our country back on track," Morse said.
What's not been announced is when the ads will begin airing. Morse's critics believe the announcement was in response to SuperPAC Stand for New Hampshire spending $400,000 on an ad promoting GOP Senate rival Kevin Smith.
Dems back councilor
Executive Councilor Cinde Warmington, D-Concord, continues to corner the market on establishment support for her re-election despite a serious primary challenge.
Last week, all 10 Democratic state senators endorsed her. The previous week, the all-Democratic congressional delegation backed her.
If anyone thought this show of support would scare off former Executive Councilor Mike Cryans of Hanover from opposing Warmington in the primary, they don't know Cryans very well.
He signed up to run against Warmington on the first day of filing.
In a surprise, state Sen. Harold French, R-Canterbury, who said he was retiring from politics, filed as a Republican candidate for Warmington's seat.
He's got an uphill fight. Redistricting has made Warmington's District 2 even more Democratic-leaning.
Sununu: Begone, pro-secessionists
While the governor knows he's not going to find common ground with GOP lawmakers on all issues, he said a proposal to ask voters whether to support seceding from the United States went way too far.
None of the 13 who voted against killing that constitutional amendment (CACR 32) deserve to be back next January, he said.
"Look, I don't mind saying if you voted to secede New Hampshire from the greatest United States of America, I don't think you are doing a good job. I think you should be fired," Sununu said.
Good, bad week for Layon
State Rep. Erica Layon, R-Derry, vice chair of the House Health, Human Services and Elderly Affairs Committee, experienced some ups and down recently.
The good news: Sununu signed her bill (HB 1663), which carefully rewrote home education laws to protect parental rights to records.
Layon is the GOP conservative counterpart to Democratic Rep. Lucy Weber of Walpole.
Both are passionate about what they believe, but they have come to Concord committed to making sure the legislative language adopted is neither vague nor ambiguous.
The bad news: On May 26, a Derry patrolman pulled Layon over just after 9 p.m. for "erratic operation" while driving on Manchester Road.
She was cited for drunken driving.
"I have retained an attorney and I look forward to resolving this matter with a positive outcome," Layon said in a statement.
Dems hit gov on gun violence
Amplify New Hampshire, the liberal special interest group that spent more than $2 million attacking Sununu over the abortion ban, is moving on to gun violence.
The group is putting together an "educational program" (read: multi-media attack) highlighting Sununu's past support for gun owners and his refusal to consider any gun control measures in the wake of many mass shootings.
Here's a link to the group's digital ad message.
Gargiulo is in
Hampton Falls businessman Lou Gargiulo is seeking the GOP nomination again for the District 24 state Senate seat.
He lost in 2020 to Rye Democrat Tom Sherman in one of the most expensive Senate races in state history.
"Decisions by politicians in Washington are driving up the cost of everything from a gallon of milk to a gallon of gas. Instead of providing solutions to these problems, politicians leave middle-class families to foot the bill," Gargiulo said.
GOP operative John Corbett with Jamestown Associates is working on this race, which will be one of the most-watched this fall. Gargiulo is likely to face Rep. Debra Altschiller, D-Stratham. in the fall.
Ed boss has sales job
Education Commissioner Frank Edelblut learned the Executive Council will not rubber-stamp another $800,000 contract with Here This Now LLC, a Peterborough company providing a popular forum of training to help teachers find ways to "deescalate" anxiety or hostility in public schools.
Councilor Dave Wheeler, R-Milford, and Joe Kenney, R-Wakefield, both objected to what they considered unorthodox and questionable techniques.
One exercise for fourth-graders called for their "teacher to remove their shoes and socks, and put their feet together (with a student) and feel the sensation."
"There is just no way I can support this … going into public schools," Wheeler said.
Edelblut said this training has been so popular, it got overbooked. State officials have told the contractor the importance of "not using touch methodologies" in some cases.
"We think some of those exercises that are appropriate for the school and some of them are not," Edelblut said.
Lottery veteran stays
The Executive Council granted Debra Douglas of Bow another four-year term to the Lottery Commission.
Since Douglas joined the lottery panel in 2009, net revenue to public schools has more than doubled from $68 million to $144 million.
She has helped oversee the agency acquiring control over charitable gaming and the introduction of Keno, the lottery online platform and sports betting.
Annual sales are now $519 million, up from $240 million when she joined the three-person commission.
Her husband is Chuck Douglas, the former congressman, Supreme Court justice and longtime trial lawyer.
Sununu endorses DES boss
Last week, Sununu nominated Environmental Services Commissioner Robert Scott of Bow to another four-year term. He makes $136,000 a year.
Sununu also has asked the council to give four more years to nine Compensation Appeals Board members, including Manchester Democratic Rep. Ben Baroody, former Democratic legislative chief of staff Don Manning, electrical workers union executive Jim Casey of Dover and Manchester lawyer William Schubert.
'Press intimidation' hit
Sununu condemned five recent incidents of vandalism targeting the current and former homes of New Hampshire Public Radio News Director Dan Barrick and reporter Lauren Chooljian.
An unidentified suspect or suspects spray-painted their homes in Massachusetts and New Hampshire and threw bricks at both buildings, breaking windows.
"My gut tells me it is press intimidation. I guess it could be personal," Sununu said. "The No. 1 thing you want to do is bring that individual to justice and soon."
The Middlesex County (Mass.) District Attorney's office has been aggressively investigating the matter.