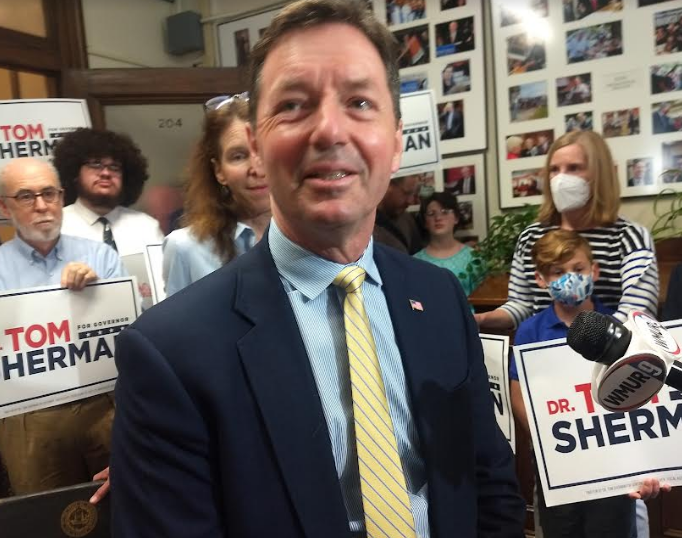 WHILE IT IS EARLY in the 2022 campaign season, Democratic candidate for governor Tom Sherman surely will get some notice for outraising Gov. Chris Sununu, according to the latest campaign finance reports.
Sherman's lead is a narrow one. He has collected $820,851 — about $7,500 more than the governor.
The incumbent's cash position is better, with $715,000 in the bank, compared to Sherman's $615,000.
Raising money has never been Sununu's strong suit.
In Sununu's first race for governor in 2016, Democratic nominee Colin Van Ostern of Concord raised significantly more. Van Ostern's financial advantage was compounded by millions in donations from national unions with political action committees.
That is one of the factors that makes Sherman a potentially strong opponent for Sununu.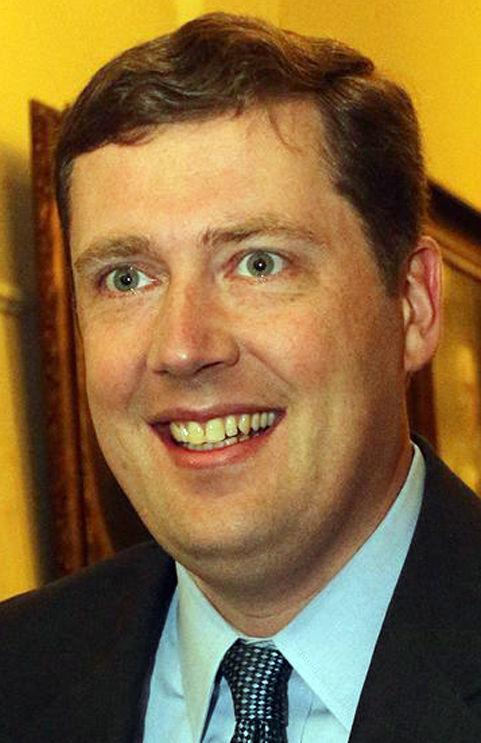 Meanwhile, with other Democrats deciding to defer to him, Sherman also will benefit significantly from being the first Democratic gubernatorial candidate since 2014 who will not have to spend money on a primary fight.
"We're building the resources we need to communicate with voters in the fall and traveling across the state talking to people about what's keeping them up at night," Sherman said.
Most impressive is the large number of donors Sherman has so far, compared to Sununu, who built his war chest largely by getting his biggest backers to write large checks.
Donors to Sununu included: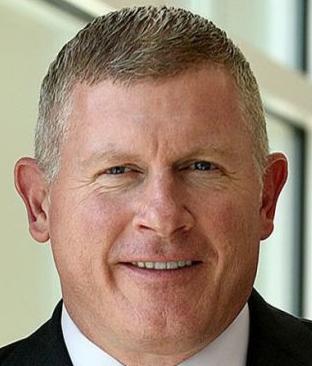 A.E. Gidley of Salem, $15,000; Autofair, $10,000, and CEO Andy Crews, $15,000; Mark Arquilo, Bedford landscape company, $5,000; Concord Coach Line President Harry Blunt of New London, $15,000; Bedford restaurateur Tom Boucher, $7,000 cash and in-kind support; Robert Brown of Hampton, $5,000; CGI Business Solutions of Auburn, $15,000; trash disposal giant Casella Waste System, $2,000; Choice in Healthcare Committee, $5,000; Curtis Holdings of Boston, $15,000.
Anthony and Rachel DiLorenzo of Key Auto Group Salem Ford, $20,000; Joseph and Samantha Faro of Tuscan Brands in Salem, $20,000; Albert Fleury of Hampton, $7,500; automobile emissions contractor Gordon Darby of Bow, $3,000; Bill Greiner of Bedford, $15,000; Anna Grace Holloway of Rye, $5,000; C&J Trailways exec James Jalbert of Portsmouth, $15,000; Frank Laukien with Bruker Corp. of North Hampton, $12,500; Michelle LeMay of Hampton, $5,000; Thomas Manson with Eastern Propane from Hampton, $5,000; Brian McCabe of Meredith, $5,000,
Jessica and Paul McKeon with B2W Software Inc. of Portsmouth, $25,000; Nextera Energy Seabrook, $15,000; Nixon Peabody, $15,000; Northeast Retail Development of Brookline, $10,000; Optiline Enterprises of Nashua, $10,000; Peter Paul of Dover, $15,000; RAI Services Co. of Winston-Salem, N.C., $2,500; Sheehan Phinney Capital Group, $3,000; Craig Stevens of Bedford, $2,500; Ken Solinsky of Bedford, $5,000; Phillip Taub of Bedford, $10,000 and executives with Tulley Automotive Group $9,500; and Christopher Ward of New Castle, $10,000.
Donors to Sherman included:
State Rep. Susan Almy, D-Lebanon, $2,500; Posy Bass of Peterborough, $1,000; John Blackford of Exeter, $1,000; Edward Bordeau of Hampton, $4,900; Anne Brooke of Coral Gables, Fla., $1,000; Joann Buonomano of Durham, $1,000; former State Sen. Peter Burling of Cornish, $5,000; Barbara Carpenter of Newmarket, $2,500; Alice Chamberlin of Warner, $1,500; ex-State Sen. Shannon Chandley of Amherst, $1,000; David Coe of Hampton Falls, $5,000.
Stephen Weinburg of Exeter, $2,000; Christie Taylor of Merrimack, $1,000; John Swope of Concord, $1,000; Matthew Stover with LKM Ventures Inc. of Chester, $25,000; Carol Sox of West Lebanon, $8,750; Sally Smyser of New Castle, $9,000; William Sherman of Charlottesville, Va., $10,000 and John Shaw of Hampton Falls, $2,000.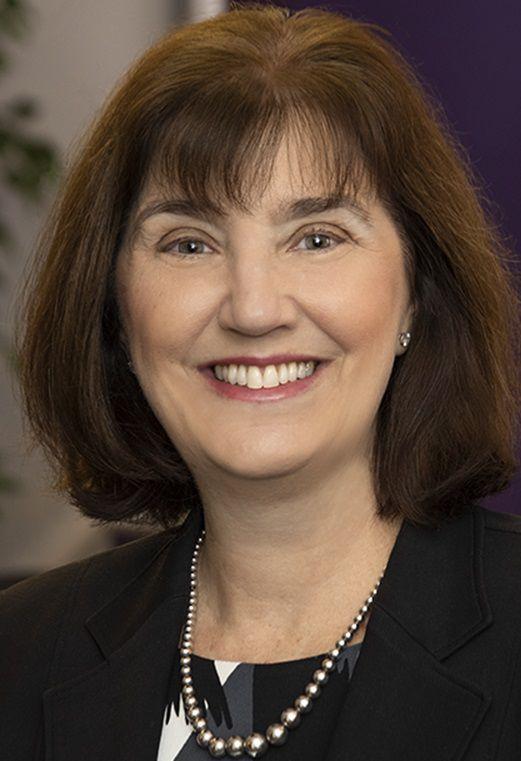 Warmington sets record
First-term Executive Councilor Cinde Warmington, D-Concord, blew away all early records for her party with nearly $250,000 in cash on hand, including $107,000 raised since January.
Warmington has opened up a canyon-sized money lead over Democratic primary challenger and former Councilor Michael Cryans of Hanover, who had a balance of $34,000.
Democratic council candidate Kevin Cavanaugh of Manchester was in good shape with $62,500 on hand.
His opponent, Councilor Ted Gatsas, R-Manchester, has nearly twice that much, $111,406.
A new force in Executive Council races emerged this spring as state Democratic leaders learned from 2020 and formed their own PAC, the Executive Council Campaign Committee.
They have raised $157,000 to support Democratic candidates.
In the last election, business leaders and Sununu allies formed a late-breaking PAC, which spent more than $200,000 on ads backing GOP council hopefuls.
Early fundraising leaders
Redistricting of the state Senate will make it harder for state Democrats to flip that body, where Republicans have a 14-10 advantage.
Democrats will not be outspent, however.
The top two targeted races for Democrats are rematches for ex-Brookline Sen. Melanie Levesque and former Amherst Sen. Shannon Chandley, who are trying to win back seats they lost in 2020.
Levesque has opened up an early financial lead with $68,000 in the bank, compared to state Sen. Kevin Avard, R-Nashua, who has about $45,000.
Likewise, Chandley is well out in front of state Sen. Gary Daniels, R-Milford, with a $71,000 war chest, compared to Daniels' $30,700.
The state Senate Democratic Caucus will play a giant-sized role in the minority party's upset bids, with $707,000 so far.
GOP hopefuls with bucks
Republicans' No. 1 target in the House is District 16, the seat Cavanaugh left to run for the council. Redistricting has made it much more GOP-leaning, and Democrats did not even field a candidate, though Democratic primary voters could still choose a nominee with write-in votes.
In the District 16 GOP primary, the two rivals come out of the box close in the battle for the bucks.
State Rep. Michael Yakubovich of Hooksett has $31,500, and Rep. Barbara Griffin of Goffstown has about $23,000.
The GOP is far head in at least one race.
Hampton Falls businessman Lou Gargiulo is the only Republican running in District 24, which Sherman is leaving to run for the Senate.
Gargiulo already has raised $206,000, while his Democratic opponent, Rep. Debra Altschiller of Stratham, has $21,200 after only a few weeks of fundraising.
Safer Dem has pile of cash
Redistricting made the reelection prospects even better for one Senate Democrat, Sen. Lou D'Allesandro, D-Manchester.
His revised District 20 now includes only wards in his hometown after the GOP-heavy town of Goffstown was dropped.
Former Manchester mayoral candidate and school board member Rich Girard will be his Republican opponent.
D'Allesandro has one of the biggest campaign balances of all in the State House, with $252,000 in the bank.
GOP hopefuls square off
On Monday night, the New Hampshire Journal is sponsoring the first debate of Republicans seeking to retire U.S. Sen. Maggie Hassan.
The event at the New Hampshire Institute of Politics, which isn't open to the public, will be broadcast live on Manchester cable TV and streamed online.
"As New Hampshire's home for politics, we are looking forward to being the location for this important exchange with candidates who are competing in one of the most important races in the country," said NHIOP Executive Director Neil Levesque.
The five invited candidates are retired Brig. Gen. Don Bolduc, Bitcoin businessman Bruce Fenton, businessman Vikram Mansharamani, Senate President Chuck Morse and former Londonderry Town Manager Kevin Smith.
Journal Managing Editor Michael Graham will moderate the 90-minute affair.
Kelly holds fundraiser
Nashua Alderman-at-Large Shoshana Kelly, a Democratic candidate for Executive Council, is hosting a fundraiser Thursday night at Jajabelles Pastry & Coffee Shop on Main Street in the city.
She is running in District 5 against Councilor Dave Wheeler, R-Milford.
Tickets are $25 each, with sponsorships of up to $1,000.
AG recruits veteran lawyer
In these times of workforce shortages, Attorney General John Formella scored a significant recruiting success by luring Diane Murphy Quinlan to join his team as the new director of the charitable trust division.
Quinlan served for years as legal counsel for the Roman Catholic Diocese of Manchester.
Has state revenue peaked?
June is one of the big months, so it's a slight surprise that state taxes and fees were only $20 million over estimate for this month.
Nearly all of that surplus came from the state's two business taxes, which brought in $19.6 million more than expected.
All the other big revenue months this year have been more than $50 million over forecast.
Fish hatchery takes a hit
Fish and Game Executive Director Scott Mason is hard at work planning for renovation and replacement of its old fish hatchery system.
Until that happens, the agency has to deal with all kinds of challenges, including what happened recently at the Powder Mill Hatchery in New Durham, the state's largest.
"One big problem is predators. We had a family of otters that got quite happy and fat, dining on 6,000 trout inside of a week there," Mason told the Executive Council recently.
Roll Call: Seats up for grabs
Last week, Roll Call reported that the economy and President Joe Biden's worsening poll numbers have put both U.S. Reps. Chris Pappas and Annie Kuster, D-N.H., in danger of losing this November.
The story likened this cycle to 2010, when former Congressman Frank Guinta avenged his past defeat to Democrat Carol Shea Porter in the 1st Congressional District and ex-Congressman Charles Bass beat Democratic incumbent Paul Hodes to regain the 2nd District seat.
"New Hampshire is one of the top states to watch for the height of a political wave that could be hitting the entire country in favor of Republicans; because, in the past, New Hampshire has gone with the national tide," the story said.
Longtime lobbyist retiring
Later this week, David Collins will end a long, distinguished career with the lobbying unit of the Rath, Young and Pignatelli (RYP) law firm. Collins had been president for RYP Granite Strategies.
Gina Powers, the group's director of government relations, took over the top spot last January, and Collins stayed in an advisory role.
Collins has been with the firm since 1998.
4th session on new hospital
State officials will host a fourth informational session Thursday on Zoom regarding plans to build a secure forensic hospital next to the existing New Hampshire Hospital.
The session begins at 6 p.m.
The current capital budget calls for building the 24-bed unit.
Kevin Landrigan is State House Bureau Chief for the New Hampshire Union Leader and Sunday News. Reach him at [email protected].