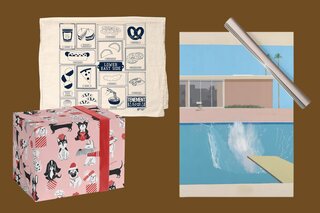 Gift wrap: where is it when you need it?
I mean this literally: doesn't it always feel like you've made your list, you've checked it twice, and then, at the very last moment, it occurs to you that you might like to hand it to your recipient in something other than the store-branded bag in which it's been sitting since you bought it a month ago? I yearn to be one of those celebrities who has a whole room dedicated to gift wrapping, with bags of every imaginable size and elegant-yet-whimsical tags that will make my loved ones feel extra special, whether they're getting a hand-knit sweater or a giant bag of honey-roasted nuts (both gifts I am giving this year, incidentally).
A beautifully-wrapped present draws out the fun of gift-giving for both you and the person on the other end of the exchange—it's a chance to show off a little bit of personality, whether you're a dog-lover who thinks everything looks better adorned with images of jaunty four-legged friends or a person with great handwriting who wants to practice your craft on vintage (or vintage-looking) tags that evoke the holiday seasons of yore.
Bags, tags, ribbons, pom-poms your cat will try to steal: this list of gift wrap and gift wrap accoutrement will ensure it's your gift everyone at the annual White Elephant everyone will be fighting over.
A little vintage-inspired moment for your best friend (the dog)
These cheerful pups look like they were sketched for a 1960s-edition of The New Yorker. I would use one of the sheets—there are five in the pack—to wrap a present for my actual dog!
Some luxurious trimming 
Lush velvet in icy blue looks great paired with holiday metallics, and doubles as a fun last-minute hair accessory for the party you forgot you RSVPed ''yes'' to. 
It's a classic for a reason!
If, historically, you haven't been great at wrapping gifts, this is a cheeky nod to the concept of just handing it (whatever that may be) over in the store's bag. Bonus points for the fact that it's reusable! 
Let someone else do (most of) the work for you
You still have to wrap the gift, but this set includes gift tags, too—the days of writing your intended's name in Sharpie directly on the wrapping paper itself are behind you, now!
Some wrapping paper that's actually a keepsake
I love giving small kitchen gifts—think a spoon rest, a cheese knife, or a salt cellar—wrapped in a tea towel for a two-part gift. This one, from NYC's Lower East Side Tenement Museum, is printed with iconic New York City snacks like black-and-white cookies and the perfect hot dog.
For the fancier individuals in your life 
For people on your list who are a little more "darling, I love you but give me Fifth Avenue," this wrapping paper captures the spirit of spending the holidays bopping around looking at boutiques decorated with tinsel and lights before afternoon tea and a Broadway show. 
For those who'd rather set it and forget it 
Halfway down this list, it is time for me to make a confession: I am not very good at cutting and taping. Thankfully, someone saw fit to invent the gift bag, which makes wrapping gifts extremely easy. This one is printed with pomegranates rendered in gold, and it also comes in a size specially designed for a wine bottle, an object I would never be able to wrap nicely otherwise.
Maybe you're feeling crafty 
Plain brown paper can be whatever you want it to be—finished with a sprig of holly and a bit of red ribbon, it's pleasingly old-fashioned, and if you're at all artistically inclined, it can be a blank canvas upon which to illustrate holiday well-wishes and gift-use instructions. 
Some paper worth saving
Snowbirds and art collectors alike will love anything wrapped in this paper printed with one of David Hockney's signature swimming pool scenes.
A gift bag that's medium-festive 
A lovely bag that speaks to the end of the year as a time when the nights get longer and the stars get brighter, this bag doesn't scream ''holiday'' —a plus if you're gifting early or late in the season. 
When the wrapping is better than the present!
If you are giving a gift to a baby or a cat (I have both on my list this year), this tinsel pouf is gift enough! For everyone else, the exuberant shape is more fun than a traditional bow, and the easy sticky back lets you slap it on pretty much anything for a little extra holiday cheer.
Affix a sweet treat 
You could tie a minty, red-and-white striped peppermint candy cane—it's a staple of the season for the reason—to your presents, or you could do a little bit of holiday mischief and challenge your giftees to take a bite out of candy flavored like pickle, bacon, or (I am shuddering as I type this) sardine. 
Some vintage flair, perhaps?
The mid-20th century was a real golden era of holiday decor—trees, paper, and even clothes incorporated prints that evoked the shapes and colors of the period, like these Jetsons-esque atomic starbursts in pale pinks and blues, which were both colors you'd see right alongside green and red for holiday in the 1950s and 1960s.
Subtle, but still sublime
This hand-made paper takes the rich blues often used in Hanukkah decor and turns them ever-so-slightly abstract, in a stunning marbled print that feels festive in a chic, grown-up way. 
Think… pink? 
Another color that used to appear in the form of tinsel, tree-toppers, and Christmas party dresses for people of all ages: coral (I learned this from Mad Men)! If you're celebrating in Palm Beach, Palm Springs, or just staring wistfully out the window wishing you were looking at palm trees strung with lights, these vintage labels will give your holiday celebrations a decidedly warm-weather feel. 
Make it (smell) nice
You could go out into your own yard (or a park?) and forage for pine cones to tape onto your holiday packages, or you could make life easier on yourself and order a bunch of cinnamon sticks. Tucked neatly into a bow of twine, they'll gently perfume the room, and after the unwrapping part of the day is done, make a spicy addition to hot apple cider or mulled wine. 
Looking for something else? Check out the rest of our holiday gift guides here.
We love the products we feature and hope you do, too. If you buy something through a link on the site, we may earn an affiliate commission.