After a jaunt in Los Angeles making leather goods with their company, CUERO&MØR, Eugenia Diaz and Pepe Romero decided it was time to head back to Europe. When the Spanish couple returned in 2019, they converted a van into a camper to roam freely, but knew they'd eventually want to settle down. The next step in their journey? Designing and building a tiny home on their own piece of land. After three months of searching, they settled on a little more than an acre in the Alentejo region of Portugal and got to work.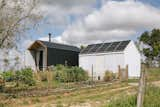 The gable cabin they designed and built themselves is tiny by every measure—roughly 193 square feet on the ground floor. But as compact as it is, every space has a use: floor-to-ceiling cabinets store household items and clothing; a breakfast table pulls out from the wall; the cooking area features a full stove; and a loft above the kitchen houses a king-size bed. To bring in light, they used polycarbonate panels to create large front doors and paneling in the loft that frames a window.
With occasional help from neighbors, Eugenia and Pepe built the cabin in approximately 120 days, performing tasks from installing a raised steel platform and frame on concrete footings, to attaching black metal cladding, to installing cabinetry and a woodburning stove. They estimate the cost of materials at approximately $5,250, with an additional $4,500 going toward a solar power system. The couple captured the entire process and posted it to a YouTube channel they created in order to share what they learned.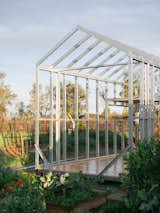 They also erected a 172-square-foot workshop that gives them space for creative projects, such as ceramics and woodworking. Eugenia's ambitious garden, which she chronicles on her own YouTube channel, provides her and Pepe with the majority of their food. They often get fruit from neighbors (who have more mature trees) and meat via a local farm. Next, they plan to build a chicken coop and another dwelling on the land, and expand the existing garden.
Since posting the video of their journey, it's become clear that others share their vision for an alternative lifestyle. At the time of this writing, their channel has more than 140,000 subscribers. For those interested in replicating what Eugenia and Pepe have built, they sell instructions for the cabin and even offer in-person visits. Here, we talk to the couple about their design process, the challenges they faced, and what day-to-day life looks like living in a tiny home in rural Portugal.
Dwell: The cabin, workshop, and garden are situated in Alentejo, between Lisbon and Évora. How did you learn about this area? When did you first visit it?
Eugenia: In 2016 we were living in Southern Spain, and every two months, we'd visit a shoe factory we were collaborating with in Northern Portugal. During that time, we got to see pretty much the whole country. Alentejo is situated right in the middle, and was the best of both worlds: warm enough to be able to grow your food during winter, but not too populated.
What were your requirements when looking for a place to build?
Eugenia: We were looking for a piece of land big enough to feel isolated, and to also be able to grow our own food, so about 1.25 acres. The goal was to be self-sufficient in terms of food and energy. We ended up finding a parcel that was separated in two by a dirt road. The upper part is a little smaller than the lower part. We built the Modern House Cabin, the workshop, and the garden on the upper part and realized that you really don't need much space to grow all your own food.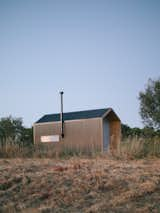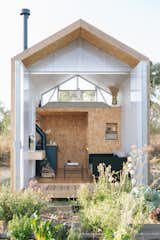 You mentioned you designed the plans so that you could build the cabin by yourselves. Why was this important? How did it affect the overall design?
Pepe: Yes, we knew that we were going to be all by ourselves. Family and friends are not close enough to come help out so it was just myself and Eugenia. The design itself did not really change much because of that. What changed is how we put the pieces together and in what order they were put together. Designing it in sections small enough that we could handle by ourselves was key.
The cabin has a lot of space-saving features, which you can see in videos of Eugenia cooking. How did you decide which elements were most important?
Pepe: We had been living in our camper van for a year, so we were able to experience firsthand what is essential for us when living in a very tiny space. We knew what we needed in order to be able to work, cook, and rest properly. We designed the cabin so every space does feel full scale, even though overall it's very tiny. We have a full-scale kitchen, a standard-size sofa and desk, and a king size bed. It really does not feel like you are in a tiny space at all.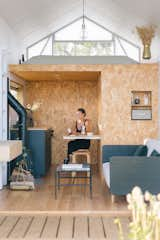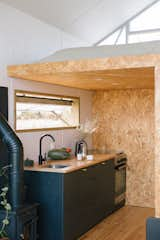 What's it been like living here through the seasons? Have you had to make any adjustments based on the weather?
Pepe: We've been here for two summers and two winters already, and haven't had to change anything. The majority of the year, we live with the front doors and windows open. The cabin is facing south, so we get nice cross ventilation all year long. During the months of January and February, when it gets cold—around 33 degrees to 50 degrees Fahrenheit—we keep the cabin shut and use the fireplace. I think winter is my favorite time of the year. It is extremely cozy and nice inside and you get to enjoy some time doing computer work while enjoying a fire.
I read that you started construction on the workshop a year and a half after the cabin was completed. Why did you decide on this timeline?
Eugenia: When we first moved to our land, we were living in our camper van. Living in a van during winter is not a great situation. It is a very small space, and very humid when it rains. So building the cabin first was the only option, to be honest. Once we had the cabin, we needed an extra multifunctional space—to hold the solar panels, for work, as a greenhouse to grow more food during winter, and as storage.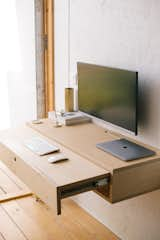 You also have your pets living with you. How have they adjusted to the space? What are their favorite spots?
Pepe: Yes we have a husky and a cat. They love it out here, they have a lot of outdoor space to play around. Lolita, our cat, roams around all day to find the best spot: the front deck early in the morning when the sun is just rising, then the kitchen window. At night, she likes to be in the loft with us and spend the night on our feet. Aspen, our dog, is always with us. If we are inside the cabin, he will be lying below the floating desk—that is his favorite spot.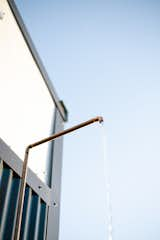 Why was it important to you to share the cabin's plans with others? 
Pepe: The Modern House Cabin really started out of necessity. We needed a space where we could live temporarily while we design our final home, which we plan to build on the lower, larger part of our property. We wanted to be able to build the cabin quickly, easily, and affordably. When we designed it, we never really thought it would be this comfortable. When we moved in, we realized that we had something that people in our same situation could really benefit from.
Being an architect myself, I know how hard it is to design small spaces that function well—one more inch here or there really has a big impact on how the space and the scale feels. So we decided to offer the plans of our design at a very affordable price so people in our same situation, without a design background, could build something well-designed.