As we near the end of the year, it's a good time to take a step back and see where things currently stand with house plan design. To get additional perspectives on what's trending, I spoke with myriad home plan designers who were quick to share what's in high demand right now. All plans mentioned can be found online at BuilderHousePlans.com.
1. Warmed-Up Modern Farmhouse Exteriors
People still love the modern farmhouse look, and it shows no signs of slipping from its top perch on Zonda's house plan sites. But what do you do when there's a sea of farmhouses with white siding on the market? Warm up the exterior with Craftsman-like details.
In fact, many of the bestselling house plans this year display rugged trusses, earthy accents, and other Craftsman-like details on their exteriors. Take a look at the top-selling design of 2021 (through September), which was also the No. 1 selling plan in 2020. Why does this relatively simple farmhouse (plan 430-184, designed by House Plan Zone in Hattiesburg, Mississippi) continue to captivate customers?
"The exterior is on-trend enough to 'wow' the farmhouse lovers but transitional enough to stay relevant when the farmhouse craze fades. The clean, simple exterior has staying power," says Alicia Luebbers of House Plan Zone.
Client Meghan Jordan agrees, noting that her family receives "so many compliments from our neighbors and friends passing by that they love the clean, farmhouse exterior."
2. Offices, Offices, Offices
A home office is now an essential—or two, as multiple office spaces are becoming more popular, according to The American Institute of Architects Home Design Trends Survey.
Janet Hobbs of Hobbs' Ink often includes offices in her designs, like the study shown above in plan 935-5. Her questions for clients quickly get to the heart of the need. "The couple will hem and haw until I finally ask, 'Do either of you do video or phone meetings?' Then the floodgate opens, and one of them blurts out, 'She is so loud when she is on the phone!' or 'He paces, and it drives me crazy.'"
She notes that "a home office can be a nook off a hallway, a completely separate building, or anything in between as long as whatever solution we propose gives them clear separation from whatever else is going on in the home."
Architect David Wiggins also includes offices in many of his designs, including plan 120-270, which features a study that opens directly onto the porch. "Even before COVID, home offices were a necessary part of the home for the entrepreneurial at heart. Keeping life in balance means being flexible and efficient with your time, and home offices are an excellent way to achieve that."
3. Barn Living (or At Least the Look)
Interest in the term "barndominium" and similar searches has risen dramatically in the past couple of years, according to Google Trends.
Sam Morgan, who designed the garage plan with living space shown here, explains the story behind this design (plan 1060-82): "The original client on this project was looking for a barn-style shop to go along with the new home we designed for them. The plan was to build the shop first and live in the apartment above while they built the house," and then they'd have the apartment to use as a rental property.
While some barn-style plans feature utilitarian spaces like workshops or oversize garages, others merely suggest the idea of a barn with their rooflines. And it's unclear how many people searching for barndominiums actually want a traditional metal-framed structure versus just admiring the sleek look. Either way, the rustic barn vibe is clearly an attention-getter right now.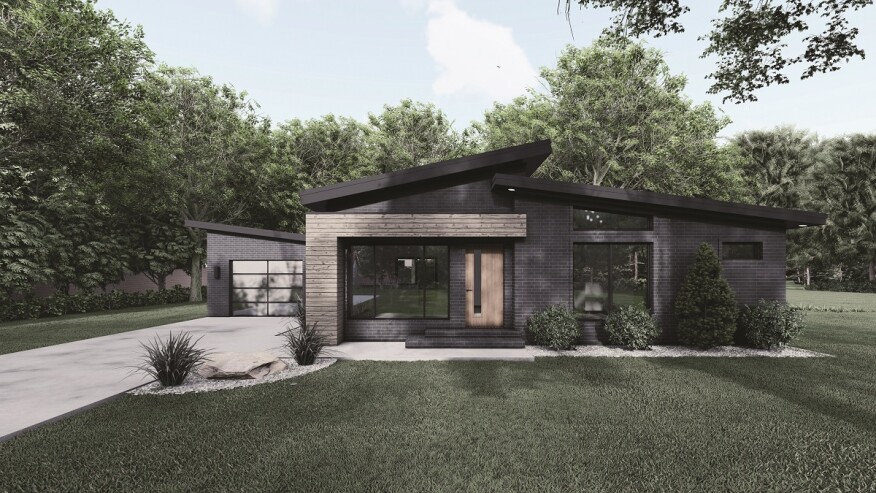 4. Streamlined Simplicity
This modern, simple plan from Jonesboro, Arkansas–based Michael E. Nelson Designs (plan 923-166) features 1,131 square feet of living space with three bedrooms and a seriously stylish modern exterior.
"High transom windows allow natural light and plenty of wall space, giving this little gem killer street appeal," explains Steph Nelson.
A few other plans around this size or a tad larger have become popular this past year, too. Matt Clancy, director of sales for Zonda's house plans group, points out an obvious reason: cost.
"As a result of the explosive price of materials since last year, people have realized that cutting corners (literally) will help to reduce their overall build costs," Clancy says. "While building with less square footage is an obvious solution, simplifying the overall shape of the house can also lead to significant savings."
5. Functional Luxury
Especially with a simple design, you've got to make it feel special. Many of today's popular designs accomplish that by adding thoughtful details in highly functional areas of the house, like the mudroom or the primary bath.
Here's a good example: This farmhouse from Minnesota-based Royal Oaks (plan 51-1162) dedicates space to storage and relaxation as opposed to formal entertaining. The hardworking zone near the garage entrance presents owners with a powder bath, a laundry room, an office corner (complete with a window), and porch access. Meanwhile, the primary bathroom creates a "wow" moment with separate vanities and a centerpiece tub.
Says designer Kieran Liebl of Royal Oaks Design, "This plan features a two-story great room with one entire wall being a sliding glass door to the 317-square-foot rear porch. It has a beautiful open flow that allows communication throughout the living space, while multiple built-ins and attention to detail add to the overall luxurious feel of this home."